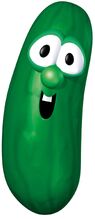 This is a list of
Silly Songs
that have appeared throughout
VeggieTales
.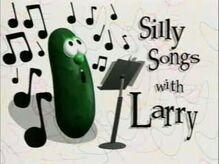 Silly Songs
His Cheeseburger (from Madame Blueberry) (Love Songs With Mr Lunt)
Larry's High Silk Hat (from Lyle the Kindly Viking) (Classy Songs With Larry)
Do The Moo Shoo (from The Ultimate Silly Song Countdown) (what is the publish)
Bellybutton (from The Ballad of Little Joe) (what is the publish)
Schoolhouse Polka (from Sumo of the Opera) (Schoolhouse Polka With Larry)
The Blues With Larry (from Duke and the Great Pie War) (The Blues With Larry)
My Baby Elf (from Lord of the Beans) (Silly Songs With Elves)
Lance the Turtle (from Gideon: Tuba Warrior) (Ukulele Karaoke With Bob)
A Mess Down In Egypt (from Moe and the Big Exit) (what is the publish)
The Biscuit of Zazzamarandabo (from Tomato Sawyer and Huckleberry Larry's Big River Rescue) (Silly Songs With Archibald)
Donuts For Benny (from Saint Nicholas: A Story of Joyful Giving) (Helpful Humanitarian Songs With Mr. Lunt)
Where Have All The Staplers Gone? (from Pistachio- The Little Boy Who Woodn't) (Obsure Broadway Show Tunes With Larry)
Pants (from Sweetpea Beauty: A Girl After God's Own Heart) (Veggie Shopping Network)
Goodnight Junior (from It's A Meaningful Life) (Bedtime Songs With Junior)
The Hopperena (from Twas The Night Before Easter) (The Latest Dance Craze Wigh Jean-Claude And Phillipe)
Astonishing Wigs (from Princess And The Popstar) (An Instalment In The History Of Fashion With Archibald)
The Eight Polish Foods of Christmas (from The Little Drummer Boy) (A Veggietales Christmas Party)
Bubble Wrap (from Robin Good And His Not-So Merry Men) (firstly shown in If I Sang A Silly Song)
Best Friends Forever (from The Penniless Princess God's Little Girl) (Silly Songs With Best Friends Forever)
Supper Hero (from The League of Incredible Vegetables) (Silly Songs With LarryBoy)
Kilts and Stilts (from MacLarry and the Stinky Cheese Battle) (Silly Songs With Scottish Larry)
Perfect Puppy (from Celery Night Fever)
My Golden Egg (from Noah's Ark)
The Agitated Song (from A Lifetime Supply of Joy) (Agitated Songs With Larry)
Community content is available under
CC-BY-SA
unless otherwise noted.